About Us
About Gagnon's Boats
Welcome to our website. Gagnon's Boats & Motors Inc. was founded by "Big Bump", John Gagnon in 1945 known as John's Outboards. John's was located in New Auburn and in 1960 John sold the business. John couldn't sit still and started looking for a place to start a new business. Grandfather (John) couldn't open a business within 30 miles of John's Outboards this is how we ended up in Livermore Falls. Big Bump (John) opened Gagnon's Boats & Motors Company in 1960 and operated out of the old Bessy's Vingar Building which is now used for boat storage.
Dad and Mom (Don & Bev) purchased the business in 1963 and moved from Auburn to Livermore Falls with Kurt. In 1971 Dad (Don) Incorporated the business. Dad operated the business with Bev's help until Kurt joined forces in 1984. This is also the year Kurt and Pauline married and Pauline started to learn the business. The Business was expanding, Dad and Kurt decided that we had out grown the small showroom and built on to our storage building in 1988. This is where we are now, in the beautiful 50 x 60 heated knotty pine showroom. We have the largest inside showroom in central Maine, as many as 13 boats fit in the showroom and we do have it heated. In March of 1989 Dad fell off our new building and Bev stepped in to help Kurt. From 1989 until the September of 2008 Kurt was General Manager, Pauline would offer her time during the busy summer months, also during boat shows and Bev ran the office.
In September of 2008 Kurt and Pauline purchased Gagnon's Boat & Motors Inc. from Bev so she could enjoy retirement with Don. Kurt and Pauline have made a few changes in lines but still focus on customer service. It truely is a family run business, Kyle (Kurt's & Pauline's oldest son) worked in the business and it's not uncommon for him to drive 4 hours just to help with boat shows. Gavin is also learning the business and is becoming quite the mechanic. Bill & Nancy (Pauline's Dad & Mom) are always leading a hand with boat shows. Kurt and Pauline believe that strong customer relationships, and their love of boating are two reasons why Gagnon Boats & Motors Inc. is so successful. We are not the biggest boat dealership in Maine but we are the friendliest in the business! Kurt and Pauline also go the extra mile to get their customers on the water in a quality affordable boat. Gagnon's celebrated 40 years of service to the Maine Boat Show in March 2011. The most loyal patroon leads to the most loyal dealership in Maine. Stop by to say hello, we look forward to meeting you.
Jon is ready for the big day!
A new Ebbtide Roger loves his NEW Ebbtide!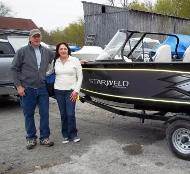 New Starweld going out.
Don's Birthday
Starcrft boat at the show
Out to Crownline Plant for training. This is a picture of a hull in lay up.